It's been about six months since I published Republic, the last installment in my Emperor's Edge series (technically, the series finished a year and a half ago with Forged in Blood II and Republic was dealing with a new story line). I'm not sure exactly how many books the series has sold (if anyone knows an easy way to calculate sales across years and platforms, I would love to hear about it), but somewhere between 100,000 and 200,000, I'm sure. (I counted up all of my Amazon book sales at some point back in 2012 and had risen over 100k).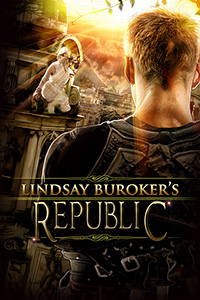 When you consider there are eight books in the series, that's not exactly blockbuster status, but I'm certainly not complaining. Most of the ebooks sell for $4.95 (the first is free, the second fluctuates from 2.99 to 4.95, and the monster Republic is 5.95), and I've been making a full-time living from my ebook income since early in 2012 (I've also met some awesome fans and really cool people as a result of this series). Even though I've published other books since then, the EE books still account for a good chunk of that income.
So in looking back, what did I do right with that series? And what could have been done better? It's natural to wonder. Even if fantasy isn't exactly romance, as far as popularity goes, I've seen other indie authors hanging out in the fantasy Top 100 categories on Amazon for months and even years. I'll tend to appear there when I have a new release, but then drop down and maybe sell 200 or 300 books a month of titles in the series (again, definitely not complaining — just thinking about room for improvement in the future!).
After taking a break this last year and trying some other genres/sub-genres, I'm heading back to high fantasy for NaNoWriMo, and I'm wondering if I can do better for what I hope will be the start of my next big series. Thus this analysis of The Emperor's Edge. Whether or not it helps me reach a new level with my next series, only time will tell. Either way, I hope some of it may be useful to other authors out there.
Keys to Success (AKA what I did right)
I'll jump into the mistakes soon, but I want to mention some of the things I did right, the things that have helped the series get to where it is (I'll pretend these were all premeditated rather than random chance):
Starting out with a clear vision of a six book series (that turned into seven books) with a story arc that spanned the entire series and wasn't resolved until the very end — When I wrote EE1, I had Amaranthe (main PoV) and the band of five guys she gathered together (Sicarius, Akstyr, Maldynado, Books, and Basilard), and it occurred to me that if I focused each novel on a different side character, while continuing to work toward the final showdown with the baddies in the end, I'd have a fairly solid path ahead of me for filling out a six-book series. Amaranthe would always be the hero, but each book would explore a side character as a secondary hero and PoV. (Frankly, the series I've started since EE haven't been laid out nearly as well.)
Having a romance that took 7 books to resolve – There's not any romance in the first EE book, but if you look closely, there's a hint that it could possibly develop at some future date. As much as I'd like to believe my world-building and the overreaching story were compelling, I think a lot of what got people to read on was the relationship between the two main characters, seeing them go from enemies, to friends, to maybe something more. It's tougher to keep things interesting between two characters that hook up in the first book.
Regular releases about 5-6 months apart — My daily word count has increased quite a bit over the years, and I wrote a rough draft in two weeks earlier this year, but I was still working the day job when I started on my self-publishing journey. I managed to get a new installment (each over 100,000 words) out about every five months, and I think that helped me gain momentum and keep the fans engaged (once I had some).
Playing with permafree and eventually having Book 1 available everywhere – I started with EE1 at 2.99, then dropped it to .99 after Book 2 came out, then finally made it free after 3 came out. I also put it out there on Wattpad and had a free "podiobooks" version made. I was never willing to go exclusive with Amazon to try the various perks of KDP Select (and, like many other authors, I've seen the hit since Kindle Unlimited came out), but I tried just about everything else. I still plug the first book with an ad every now and then, though right now I'm waiting until the new year, because I'm going to revamp the covers and try to relaunch the series (more on that below).
Fun stories — Not everyone will love my books, but many readers how told me how much they enjoy the humor and the characters. I've had a lot of of people tell me they've recommended them to friends, and that's the best kind of marketing there is.
Okay, now for the fun part of the analysis (or the gut-clenching part… whatever).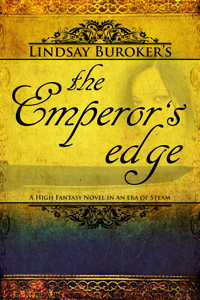 What I wish I'd done better:
The covers aren't representative of the genre — I don't have a good eye for design and I struggled to find a cover designer early on that I liked and that I could afford. I always envisioned custom illustrations (these are common for secondary world fantasy, though you'll also see symbol-based designs with a sword or map or staff or some such too), but I had a limited budget early on and the photo manipulation stuff was less expensive. And of course, I had to stick with the theme as the series continued on (I will say that the covers are very distinctly branded and that you could probably recognize one on a shelf from across the store :D). I broke away from the photo manipulation with Republic and have gotten a lot of compliments on that cover. It's going to cost a small fortune to redo the whole series with custom illustrations, but I've decided to give it a try this winter.
Completely lame series title – I don't know how much difference this makes in the grand scheme of things, but naming your series after the first book in the series… Let's just say it's one of those things publishers tell you not to do. I was never even that crazy about the name of the first book to start with!
Series not anchored firmly in any one genre — When you're a creative, you have to write the story you want to tell, and sometimes that isn't one that follows a formula or that fits tidily into a certain category on Amazon. Unfortunately, that can hinder you when it comes to marketing. The EE books most often get tagged as steampunk, because there happen to be trains and steam-powered machines in them, but I think of them as more sword & sorcery in style (they're magic-light, but they are fast-paced and character-driven with lots of action). The last couple of books in the series could more arguably be placed in epic fantasy, since we're dealing with armies and ransacking the entire capital city. I think when I rebrand the covers, I'm going to see if I can go for more of an epic fantasy/sword & sorcery feel because, quite frankly, those are far more popular categories than steampunk on Amazon. Also, Akstyr is my only punky EE character (and he has the hair to prove it).
Not a super compelling "hook" to take people from Book 1 to 2 — EE1 works as the start of a series and hints of more trouble to come, but it's very much a complete novel. There are a couple of cliffhangers later in the series, but you could read the first book and walk away without a zillion questions left unanswered. As much as readers hate cliffhangers (and often leave one-star reviews to prove it!), I've talked to author after author who's had a ton of success by having the first book end with a giant compelling hook (you have to read the next book to see if the hero, his mentor, or his faithful ferret lives!). Especially with a permafree Book 1, this can be what turns a serial-downloader-of-freebies into a buyer.
So based on all of this, what will I try with the new series?
I'm going to poll my existing readers (even if this is just casually asking on Facebook) to see which series title they like best. Right now, I've fairly certain "Redemption" will be in there somewhere (Redemption by Fire? The Redemption Saga?), since the journey is about the hero trying to redeem his family's honor and place in society (shortly after he was born, his mother ran off to become a pirate… oops). But I want to see ahead of time what sounds cool to my target audience.
I've got the NaNoWriMo novel plotted out, but I want to sit down before November and sketch out the larger story arc. Right now, I have a vague notion of what happens in the end, but I'm not sure whether that'll take three books or eight for the hero to get to that place. I want to have more of a handle on that before I get started.
Even though this series is set in the same world as the EE books, it's on a continent where magic is more the norm than technology, so I think it'll naturally fit more easily into the epic fantasy/swords & sorcery genre.
I don't have a romance planned at this point (and I'm worried about this honestly, since it seems to be a big part of what my regular readers enjoyed about the first series), but there is (I hope) an interesting relationship (a bromance or father-son type of thing) that has all kinds of potential for fun and conflict. Why yes, I'd like you to be my mentor and help me on my quest, but wait, you're a spy for the other nation? When did that happen?
The main character is an 18-year-old boy. This is a first for me. I didn't mention this up above, because I don't think a female heroine is any kind of flaw, but I do think the young-man-coming-of-age story has a huge traditional in high fantasy, and I'll be curious if having a guy flinging magic on the cover will do a better job of attracting the male audience. (I'd say that right now my readership tends to be 80% female.) I wish I had the link to the study, because it's stuck in my mind for years and years, but there was one done that found that female readers were far more willing to put themselves into the shoes of male leads than the other way around, so basically you had a better chance of appealing to both audiences with a male protagonist. (Ultimately, I write the heroes and heroines that I want to write about, age and sex regardless, but like I said, it'll be interesting to see if this makes a difference this time around.)
Lastly, I've been watching the Top 100 epic fantasy for a while, and I've been taking note of the types of titles and blurbs that do well (dragons, magic, knights, mages, and wizards, yes, please). I haven't written the blurb yet, but the title for Book 1 will be the rather blunt Warrior Mage. (Alas, dragons haven't made an appearance in this world — the closest I could get would be a giant lizard…)
Anyway, as you can see I'm putting more thought into this than I have for the other books I've written in the last year (many of those have basically been pilots to try out new subgenres), and I'm hoping it'll be the start of a series that will do as well as the EE books (if not a touch better).
If you would like to share your own experiences (or comment on mine), I'd love to hear from you below. Please leave a comment!