If you're always looking for ways to boost sales at Amazon (hey, who isn't?), you might spend a lot of time browsing the bestseller charts over there to see what other authors are doing. If it's working for them, it might just work for you, right? Well, you may have noticed… boxed sets are in right now.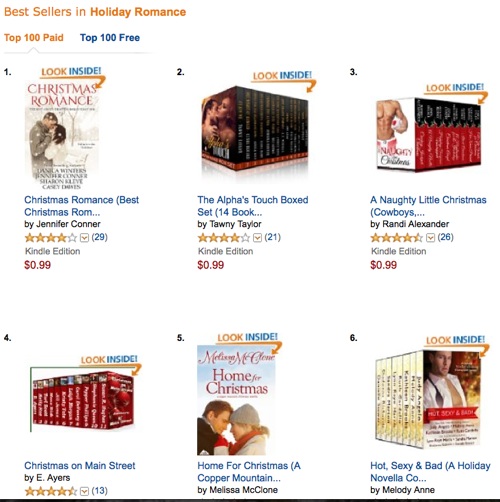 Authors are taking the first three or four books in a series (sometimes more), bundling them together into a collection, and putting them on sale for a discount (sometimes a big discount). I've seen these sets going for as low as 99 cents (on books the author might otherwise sell separately for $2.99 or $4.99), and as you might guess, they're doing well. I just took a look at the bestselling romances in the Kindle store and four out of the Top 20 are boxed sets. Under Holiday Romance, four of the Top 6 are collections.
Readers are jumping at the chance to get not just one book for 99 cents but a whole set. It's a great deal for them, but what about the author?
My own limited experience
I ran a sale on my own Emperor's Edge, Books 1-3 Collection last May, combining a Bookbub ad with a 99-cent weekend, and I had some great results myself, selling over 1500 copies of a book that usually sells about 20 copies a month. Monetarily speaking, I came out ahead on the sale, plus I had a lot more people than usual going on to check out the following books in the series (since I have seven in the series, running a sale on the first three still leaves me room to make some full-priced author money).
I put the price back to $7.99 at the end of the two-sale, which is what a lot of authors do, but others are riding the wave and leaving their sets at 99 cents until the momentum fades. Even though you would think this is ridiculous and would result in a loss of money, if you're suddenly in the Top 100 or 200 at Amazon, when your books are usually ranking in the ten thousands, you might still end up making more money. You also have the opportunity to gather more fans than you might during a typical sales period.
Ed Robertson has done this with his Breakers boxed set, and it's been in the Top 200 overall since September (as I write this in early December, it's still ranking 181). Not everyone is going to be that much of a hit (romance is obviously always hot, and dystopian is rocking for a lot of people right now too), but it might be worth giving it a try. A 99-cent boxed set represents a huge value to the reader, thus adding to the appeal of your work.
One thing I didn't do back in May, which seems to be key in making these boxed sets appear extra enticing, is upload a 3D image of the set to Amazon. I'm planning to do that and to revamp my blurb the next time I run a sale on the EE1-3 set (probably when I release the new book late this winter). I asked my cover designer to make a 3D version for me, but for the DIY-ers out there, here's a guide (some people also hire folks on Fiverr to do this for them).
What if you don't have a series?
If you don't have enough books out yet where a boxed set makes sense, you could try going in with other writers to create a mixed-author collection. I've seen these do well. If you get everyone to put a Book 1 or stand-alone novel in the pot, this can work nicely when they're all in the same genre or conform to a similar theme.
What are your thoughts on boxed sets? Yay or nay?